Over VCCN Symposium Product Cleanliness 2021
VCCN Symposium Product Cleanliness 2021
This symposium will be completely in English.

On Thursday October 14th, VCCN organizes the symposium Product Cleanliness.
Suppliers are increasingly being asked to deliver clean products to OEM companies (Original Equipment Manufacturer). Because there is a need for a definition of how clean the product must be, VCCN set up the Nano, Micro, Product Cleanliness project group in 2017. This working group consists of OEM companies, suppliers and knowledge companies. Soon after the working group started, there was a need to develop a guideline so that everyone speaks the same language with regard to product cleanliness. With the help of OEM companies, who set requirements for the cleanliness of the product, they are energetically working on drawing up VCCN Guideline 12. At the end of the symposium the first copy of Guideline 12 will be officially handed over to prof. Dr. Vadim Banine of ASML.

View the full programme »
Receive VCCN Guideline 12
At the end of this symposium, everyone will receive a copy of VCCN Guideline 12.
Exhibition
Together with the symposium there will also be a B2B exhibition. At this exhibition VCCN offers a floorspace of 3 x 2 meters with a table with 2 chairs. These stands are available for both members and non-members. A ticket with a stand includes 2 crew members who may also visit the symposium. The stand may be fitted with display materials within the designated floorspace.
How to book a stand
1. Decide who will be stand crew.
2. Make sure they both have an account in de VCCN website. Noy yet an account? Create one here.
3. The first person stand crew clicks the button at the right hand side saying 'Ja, ik wil mezelf aanmelden' and at the ticket section chooses one of the tickets 'Stand (member)' or 'Stand (non-member)'.
4. Complete the rest of the registration proces.
5. He/she will then receive a confirmation with an explanation of how to register one colleague as second stand crew.
6. The second person stand crew will follow those instructions to complete his/her registration.
7. Additional colleagues register with a regular ticket.
In the registration process you can indicate whether you use the option to place a back wall and how high it is.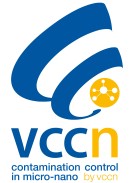 Corona measures
Location BIC in Eindhoven makes use of a corona entry pass and checks this at the entrance. You can show a corona entry pass in 3 different ways:
1. A proof of vaccination via the CoronaCheck App.
2. A negative test result no more than 24 hours old via the CoronaCheck App.
3. A proof of recovery no more than 6 months old.
This in combination with your proof of identity.

For more information click on the image below: